From:
Adam Weissman
adam@wetlands-preserve.org
Sat, 3/24:
Party for Victoria's Secret Victory and Wetlands' Anniversary
PARTY FOR OUR PLANET'S FORESTS!
CELEBRATE OUR VICTORIA'S SECRET VICTORY
and
WETLANDS ACTIVISM COLLECTIVE'S 18TH BIRTHDAY!
MARCH 24, 2007, 7:30PM
Times Up Environmental Space,
49 East Houston Street,
between Mott and Mulberry.
TIME'S UP!
P.O. Box 2030
New York, NY 10009
212.802.8222
www.times-up.org
timesup@panix.com
Media Contact:
Call Bill at 917 577 5621
or Steven Stollman
212 431 0600
For 18 years, Wetlands Activism Collective has taken to the streets to defend our planet's forests. Over the years we've been part of major forest victories, winning reforms from companies like Mitsubishi, Home Depot, Barnes and Noble, the New York Times, Staples, Office Depot, Fidelity Investments,--- and VICTORIAS SECRET!
After 2 years of campaigning by eco-activists, Victoria's Secret has agreedto phase out their use of paper from endangered forests and increase use of recycled paper in their catalogs!
JOIN US TO CELEBRATE!
Meet forest activists, have fun, and learn what YOU can do to protect the planet!
* MUSIC * WALL PROJECTIONS OF FOREST ACTION PHOTOS* YUMMY FREEGAN FOOD* UPDATES ON THE LATEST BATTLES TO DEFEND OUR PLANET'S FORESTS FROMACTIVISTS FROM WETLANDS, RAINFOREST RELIEF, AND FORESTETHICS * FREE FORESTACTION LITERATURE* FOREST ACTIVISM MOVIES * AND MUCH MORE!
More details to be announced­ call for updates!
(201) 928-2831
activism@wetlands-preserve.org
Sponsored by Wetlands Activism Collective
Special thanks to Times Up! for providing space and support!
For announcements of human, animal, and earth liberation actions in New YorkCity, send a blank email message to
wetlands-activism-subscribe@lists.riseup.net
Wetlands Activism Collective
PO Box 344,
New York, NY 10108
(201) 928-2831
activism@wetlands-preserve.org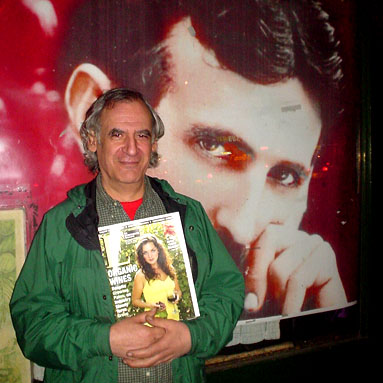 Visit these websites!
wetlands-preserve.org
freegan.info
ftaareferendum.org
freetradekillsanimals.org
foodnotfur.org
furfreenyc.org
JUST CREATED:
friendsofbradwill.org
andystepanian.com
Download latest issue of
The Local Expression