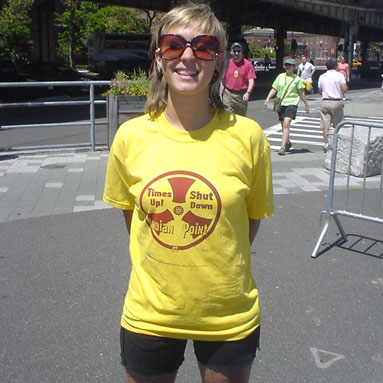 Mirrored from this
page
on the IPSEC website.
ACTION ALERT! ANTI-RELICENSING CAMPAIGN NEEDS YOU!
ENTERGY HAS ANNOUNCED IT WILL APPLY FOR LICENSE RENEWALS OF BOTH INDIAN POINT 2 UNTIL 2033 AND INDIAN POINT 3 UNTIL 2035.
CONTACT
SENATOR HILLARY CLINTON
AND REQUEST THAT THE SENATE PASS HER BILL (S. 2488) IN JANUARY REQUIRING AN
INDEPENDENT SAFETY INSPECTION
OF INDIAN POINT.
"If nuclear energy is so safe, why won't insurance companies, experts at estimating odds, cover damages from nuclear accidents?" Read Darcy Casteliero's Op-Ed piece in the Journal News, May 8, 2005 on our
2005 Articles
page.
Our anti-relicensing campaign was launched at an exciting meeting attended by almost 200 people at the Greenburgh Town Hall on Tuesday, March 29, 2005. If you were there, thank you for coming!
See the Mid-Hudson News, the Journal News and the Times Herald-Record's accounts. This campaign is the next essential step in the effort to close Indian Point and we need your help!
(all links on page were broken, have not been updated)
The purpose of this campaign is to stop Entergy's anticipated bid to re-license Indian Point for an additional 20 years. We believe Entergy may submit a relicensing application to the NRC as early as January, 2007. We are counting on your help to circulate a new resolution opposing Indian Point's relicensing throughout the 50-mile radius.
As you work to get anti-relicensing resolutions passed by your municipality, you will have the support of a point person who has agreed to help people in your region. Contact one of the following people based upon where you live:
Lower Westchester or Connecticut
Michel Lee
(914) 393-2930
ciecplee@optonline.net
Upper Westchester (north of White Plains)
Mark Jacobs
(914) 739-3402
mark@longviewschool.org
Putnam and Dutchess
Judy Allen
(845) 528-6643
judyallen@suscom.net
Rockland and Orange
Darcy Casteleiro
(845) 358-8914
darcy@riverkeeper.org
New York City & New Jersey
Lisa Rainwater
(914) 478-4501 X221
lisa@riverkeeper.org
This is a pivotal moment in our campaign to close the plant. The time to stop re-licensing is NOW. Only with YOUR help will we be able to close Indian Point!