Just some fabulous links from our friends at NIRS that I thought I would post for people wanting to educate themselves, and stay abreast of important issues concerning the supposed Green Nuclear Renaissance.
Hot News and Actions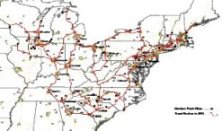 May 22, 2007: New Maps from Common Sense Campaign Reveal Another Cost of New Nuclear Power: Southbound Mobile Chernobyl. NIRS Press release.
May 15, 2007: Esquire magazine reports Palisades nuclear power plant security chief falsified his background, experience and security credentials. May 14, 2007
May 14, 2007: Major new report from NIRS finds that radioactive materials are being released from nuclear weapons facilities to regular landfills and into commercial recycling streams where they can be used to make everyday household items. Titled Out of Control—On Purpose: DOE's Dispersal of Radioactive Waste into Landfills and Consumer Products, the report is available here. Read press release here.
May 10, 2007: New international report commissioned by Greens in the European Parliament examines nuclear reactor accidents and safety issues since Chernobyl. Says study coordinator Mycle Schneider, "In the course of the last twenty years, the world has lived with the illusion that it is possible to make nuclear reactors safe. In reality, every day, countless incidents occur in nuclear reactors, and, since Chernobyl, catastrophe has, on several occasions, only narrowly been avoided."
May 1, 2007: New Greenpeace report on the economics of nuclear power finds that that nuclear power is neither a practical nor economically viable solution to tackling climate change.
April 20, 2007: Take Action Chernobyl Day on IAEA/WHO: Requesting solidarity actions in US and around the world,

Requesting all to sign petitions,

Lasting presence in front of the WHO

March 7, 2007: Seven Myths of the Nuclear Renaissance. Presentation by utility economist Jim Harding on the continued failure of nuclear economics. Includes a Powerpoint presentation

and accompanying speech in pdf format.

December 6, 2006: Think New Atomic Reactors Can be Built Cheaply and On-time? Think Again!

Updated NIRS factsheet.